The Cambridge curriculum establishes a global standard for education and colleges and companies worldwide accept it. The curriculum is adaptable, demanding, and motivating, with a global perspective while being culturally sensitive.
Students at Cambridge curriculum schools cultivate a lifelong enthusiasm for study and an educated curiosity. Additionally, students acquire the crucial abilities required for success in college and their future employment.
There are numerous ways in which British schools are a good option for the parents as well as the children. Read on and learn everything you need to know before making an informed decision.
7 Ways How Cambridge Curriculum Schools Help With Excellence
Here's how the esteemed Cambridge curriculum helps shape children's future and ensure their success: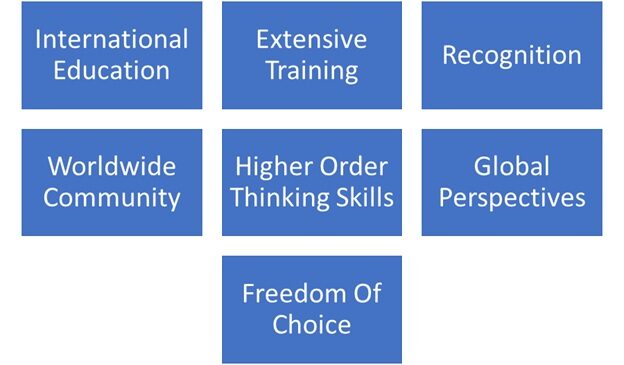 1.    International Education
Students who follow the Cambridge curriculum have the opportunity to learn the essential things and values they need to succeed in school, university, and beyond. The transition between elementary, secondary, and pre-university years is easy because of the four phases.
The learning process has four levels – Cambridge Primary, Cambridge Lower Secondary, Cambridge Upper Secondary, and Cambridge Advanced.
Each course uses a "spiral" strategy that builds on prior knowledge to help students study more effectively. Cambridge curriculum incorporates the most recent ideas in each academic area as determined by professional worldwide study and discussions with educators.
2.    Extensive Training
British Curriculum school provides instructors with a high level of assistance. In addition, it incorporates essential traits into all curricula and certifications to guarantee that they are timely and fruitful.
The teacher characteristics include being self-assured, accountable, introspective, inventive, engaged, strong, aspirational, and motivating.
The students may also access a range of materials on the protected support sites for Cambridge instructors, including lesson plans, practice exams, mark schemes, and examiner reports.
Through the discussion boards, a teacher may also communicate with topic specialists and Cambridge professors. The secure online support sites provide teachers in Cambridge Primary and Lower Secondary schools access to various materials.
Studies demonstrate the value of effective study techniques. Cambridge Curriculum Schools urge students to reflect on their learning to build upon past knowledge and make plans for the future.
They become self-assured, creative, and innovative, secure in their expertise while being open to fresh perspectives. Additionally, they will be accountable to both themselves and others.
These behaviours serve as the building blocks for successful study and work, and Cambridge curricula and credentials actively support and promote them.
3.    Recognition
Students are aware that their Cambridge credentials have universal acknowledgement by institutions and businesses both domestically and abroad. A Cambridge degree has a solid reputation and will hold its worth throughout a person's educational and professional career.
Worldwide, more than 2,100 institutions and colleges accept Cambridge credentials. They are approved by all institutions in the United Kingdom.
Over 800 universities in the United States (including all Ivy League schools) and many other countries, including Australia, Canada, Singapore, South Africa, Germany, and the Netherlands, approve it.
Cambridge credentials are proof of academic excellence for universities and companies. They are aware that British Curriculum Schools' rigorous curricula and exams equip students with the skills they need to succeed in higher education.
4.    Worldwide Community
A global community is a part of a Cambridge Curriculum school. Nearly a million students study Cambridge programmes and certifications in more than 10,000 schools spread across 160 countries.
To ensure that teachers and schools get the greatest results for their kids, these schools actively support them. The schools provide the students with priceless input from a variety of viewpoints, including principal, teacher, student, and parent, to ensure that the credentials stay up-to-date, of the highest calibre, and respected.
Cambridge curriculum also encourages schools to establish and manage local communities. They collaborate to exchange best practices and expertise in a variety of fields, including curriculum design, professional development, and teaching.
These local communities can help schools new to Cambridge or go through change, like introducing a new Cambridge programme. They can collaborate to plan educational opportunities and activities for students, including sports days or debate organisations.
5.    Higher Order Thinking Skills
The Cambridge schools combine a focus on in-depth topic mastery with the development of skills for future study and employment. They prioritise both in-depth topic knowledge and conceptual understanding, which enables students to discover connections between various elements of a subject.
They also urge students to practise higher-order thinking abilities, including argumentation, teamwork, independent research, and problem-solving. These are lifelong abilities that will help kids get ready for their futures and also make learning worthwhile and pleasurable.
6.    Global Perspectives At Cambridge Curriculum Schools
Cambridge Global Perspectives is a ground-breaking programme that supports students at every step of their academic careers in developing exceptional transferable skills, such as teamwork, research, and critical thinking.
The curriculum, which easily transitions pupils from Cambridge Primary to Cambridge Advanced, is designed for children between the ages of 5 and 19.
7.    Schools And Students Have Freedom Of Choice
The Cambridge global curriculum is tailored to fit the requirements of their pupils as well as their own culture and ethos. For the Cambridge IGCSE, Cambridge O Level, and Cambridge International AS & A Level, these schools offer more than 70 courses in total.
Cambridge schools are able to create a curriculum that gives a genuine choice in terms of both topic and subject pairing. As part of a dual education programme, many schools all over the globe employ Cambridge programmes and certifications for the English-medium strand.
There are many other bilingual teaching strategies, but because of the Cambridge approach's adaptability, students can pursue a Cambridge certification in English while simultaneously adhering to their own national curriculum.
Final Thoughts
All in all, British Curriculum schools offer an all-around education to all its students, giving adequate emphasis on academic learning as well as co-curricular activities. These schools are an ideal choice for parents looking to secure an education that is globally beneficial for their kids!